ERG/ BRG Mixer: Build, Elevate, & Bridge
Asian Business Association SD, National Association of Asian American Professionals San Diego, and Ignite Sparked by BBB invite members of their company ERGs and BRGs to the first-ever ERG/ BRG Mixer: Build, Elevate, & Bridge!

Tuesday, November 9, 2021
6PM - 8PM
Ignite Sparked by BBB Co-Working Space: 4747 Viewridge Avenue, San Diego, CA 92123
Space is limited.

Join our first ERG/ BRG quarterly mixer connecting local leaders to share best practices and ways to collaborate and engage with their community.
What is an ERG/ BRG?
Employee Resource Groups (ERGs) and Business Resource Groups (BRGs) are voluntary, employee-led groups that foster a diverse, inclusive workplace aligned with organizational mission, values, goals, business practices, and objectives.
--
Can't attend this one or need more information? Connect with [email protected]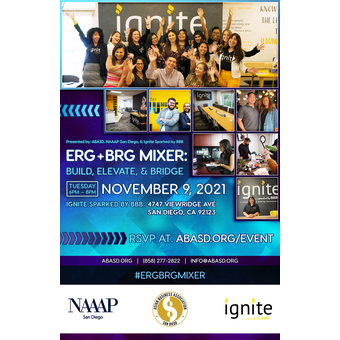 Ignite Sparked by BBB: 4747 Viewridge Avenue, San Diego, CA 92123