Mid-Autumn Festival Networking Event
🎉 It's that time of the year to celebrate the Mid-Autumn Festival again. Join the National Association of Asian American Professionals of San Diego (NAAAP SD) and Asian Business Association of San Diego (ABASD) for the Mid-Autumn Festival Networking Event 🏮
Open to both members & non-members.
NAAAP member: free
Non NAAAP member: $5
Limited spots. Reserve now!
Health Note:
Our team continues to monitor the ongoing safety protocols and best practices to keep our community safe. Please show proof of vaccine completion at the registration if you have been fully vaccinated. If you have not yet been vaccinated, we kindly ask you to wear a mask throughout the event.
Co-Presenters:
Asian Business Association San Diego
If your organization interested in being a co-presenter? Email [email protected]
#BeALeader #APIORGS #SDAPI
***************************************
Have ideas to make HAPPY HOUR even more exciting? Share your thoughts with us and let us know what types of events and professional development you would like to see or be a part of for future events.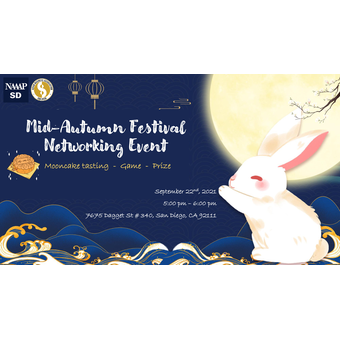 7675 Dagget St # 340, San Diego, CA 92111