Professional Headshot + Mixer
Don't have a professional headshot for your LinkedIn profile?
Need to update your headshot from three years ago?
No worries. We've got you!
NAAAP San Diego and the Asian Business Association are collaborating to provide you with a professional headshot experience at our usual location! Dress professionally, and we'll take care of the photography! Furthermore, you will have the opportunity to network with professionals from a variety of fields. Light refreshments will be served.
Space limited. Registering is highly recommended!
Members: free
Non-members: $10
***Make up service will NOT be provided.
Say Cheese!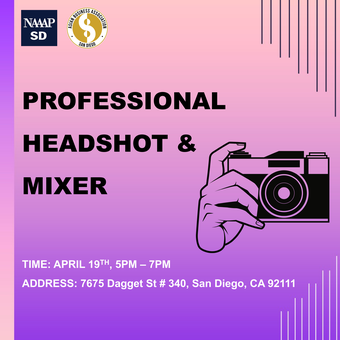 7675 Dagget St # 340, San Diego, CA 92111